Exit Public Meetings & Workshops
Exit meetings have 2 parts.
Exit Public Meetings precede all workshops and last around 30 minutes. These meetings address the legislative history & current political issues in the Assisted Suicide & Voluntary Euthanasia debate. Public meetings are free and open to everyone.
Exit Workshops are practical sessions based on The Peaceful Pill eHandbook. Workshops are focused on audience Questions & Answers (Q&A). Exit workshops are exclusively for Exit members over 50 years of age and the seriously ill. Workshops are free for Exit members, at fee for public.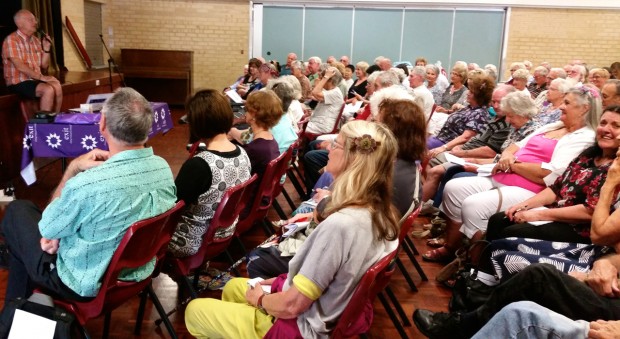 Public Meeting Topics include:
History of assisted suicide / voluntary euthanasia around the world
The experience of Australia in 1996 to the Netherlands in 2018
Exit Inventions: Deliverance Machine, Destiny & the new 'Sarco'
The 'David Goodall' case: dying at 104 years of age
Legal status quo – what you can & can't do
Workshop topics are based upon The Peaceful Pill eHandbook & include:
Suicide, voluntary death & the law
Exit's Reliability – Peacefulness Test
Hypoxic death & Nitrogen, ratings & legal issues
Poisons, carbon monoxide, cyanide, detergents – risks, safety & legal issues
The Lethal Salts
All about drugs, myths, overdoses, prescription drugs, pain drugs
The old fashioned barbiturates & legal issues
The Swiss options & Professor David Goodall
Recent Developments: Sarco euthanasia machine
Living wills, death certificates, autopsies, wills & testamentary capacity, family counseling etc
Attendance at Exit Workshops is reserved for those over 50 years & people who are seriously ill, or by special agreement.
Forthcoming Workshops
London UK
Where? Dragon Hall, 17 Stukeley St, WC2B 5LT
When? 1.30pm Saturday 23 June 2018
Registrations now open. Email register@exitinternational.net
Download the Registration Form Here
Conditions apply. Afternoon tea will be served.
The next Australian workshop series will be held in January – February 2019 and will include New Zealand cities of Auckland and Wellington.