Coming in 2021
Exit Snippets
Commencing in January 2021, Exit International will be conducting monthly Exit Snippets (mini, online workshops).

However, should the Pfizer (or other) COVID-19 vaccine become available and travel restrictions lifted in early 2021, Dr Philip Nitschke will again hold face-2-face workshops around the world.
What is an Exit Snippet?
Mini, online workshop of up to 70 minutes duration including participant Q&A
Focused each month on a different topic based on the online Peaceful Pill eHandbook
Topics will be announced each month to enable the Snippets to be up-to-date and responsive to current, changing circumstances
Free for Exit members
PPeH Subscribers will be able to attend at a discounted rate
Held monthly across different world time zones
Recorded in real time for later viewing
Registrations will open soon.
Face-2-face Exit Workshops will return post COVID-19.
Online Exit Workshops may also be scheduled for 2021.
Watch this space for updates.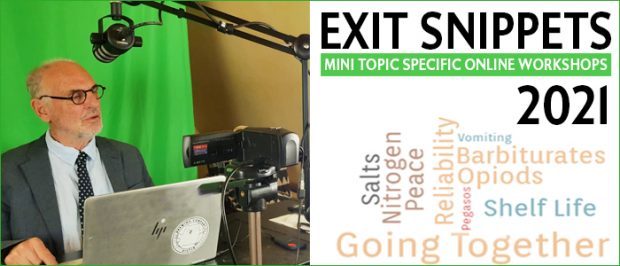 What is an Exit face-2-face Workshop?
Exit workshops are face-to-face events of up to 300 people
Exit workshops are held regularly in countries around the world
Exit workshops are based on the Peaceful Pill eHandbook
Exit workshops generally last 3.30 hours inc 30 minute afternoon/ morning tea break
Free for Exit members
PPeH Subscribers attend at a discounted rate

Workshop Topics are based upon The Peaceful Pill eHandbook
Suicide, assisted suicide, rational suicide, voluntary assisted dying (VAD), MAID & the law
Do you need a doctor? (Answer no. You just need the best information)
Exit's Reliability – Peacefulness Test – how to critically analyze different options
Physiology of a Peaceful Death Explained
Lethal Salts – Aussie pig poison & the Dutch experiment
Hypoxic death & Nitrogen, ratings & legal issues
COVID-19 – what sort of death to expect & other dilemmas
All about Prescription Drugs: myths, overdoses, prescription drugs, pain drugs
The Barbiturates: sources, scams, testing, storage, legals & recent capital punishment controversies
New US Lethal Mixtures Protocol (eg. D-DMA)
Poisons: carbon monoxide, cyanide, chloroquine, detergents – risks, safety & legal issues
Swiss Service – Pegasos Swiss Association
Recent Developments: Sarco euthanasia machine
Living wills, death certificates, autopsies, wills & testamentary capacity, family counseling …
Attendance at Exit Workshops & Snippets is reserved for those over 50 years & people who are seriously ill, or by special agreement. Workshops/ Snippets are free for Exit Members. PPeH subscribers attend with discount.