Exit Public Meetings & Workshops
Exit public meetings are free & open half to one hour meetings where the legislative history & current political status of Assisted Suicide & Voluntary Euthanasia are discussed. Public Meetings are followed by a tea break & then by the closed Exit Workshop (free for Exit members).
Exit workshops are based on The Peaceful Pill eHandbook & provide an opportunity for audience Questions & Answers (Q&A).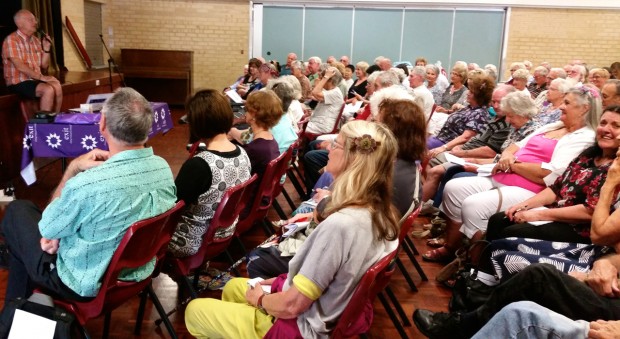 Public Meeting Topics include:
History of VE/ AS around the world
The Australian experience of the NT in 1996 to Victoria in 2017
Exit Inventions: Deliverance Machine, Destiny & the new 'Sarco'
Legal status quo – what you can and can't do
Advance directives & living wills
Workshop topics are based upon The Peaceful Pill eHandbook:
Suicide, voluntary death & the law
Exit's Reliability – Peacefulness Test
Hypoxic death, gases, dangers, ratings & legal issues
Poisons, carbon monoxide, cyanide, detergents – risks, safety & legal issues
All about drugs, myths, overdoses, prescription drugs, pain drugs
The old fashioned barbiturates & legal issues
The Swiss options
Recent Developments: Sarco, Dutch powders & more
Living wills, death certificates, autopsies, inquests, wills & testamentary capacity, family counseling etc
Attendance at Exit Workshops is reserved for those over 50 years & people who are seriously ill, or by special agreement.
Members can register by calling 1300 10 3948 or email register@exitinternational.net
Registration form for Non Members is HERE
Forthcoming Workshops
Where? Dragon Hall, 17 Stukeley St, WC2B 5LT
When? 1.30pm Saturday 23 June 2018
Registrations now open. Email register@exitinternational.net
Download the Registration Form Here
Conditions apply. Afternoon tea will be served.