January 6, 2019
Livestreams
The first Livestream for 2020 will be held on Thursday 6 February 2020 at Forum Marski 1 (Mannerheimintie 20B), Helsinki, Finland.
The meeting will start at 15.00 (3pm) local Helsinki time.
Time Zones:
15.00 EET – (Eastern Europe Time – Helsinki Time)
14.00 CET (Central Europe Time)
13.00 GMT (Greenwich Mean Time)
08.00 EST (Eastern Standard Time – USA)
05.00 PST (Pacific Standard Time – USA)
00.00 AEDT (Australian Eastern Daylight Time + 1 day)
The Livestream will comprise 2 parts:
An Exit public meeting titled 'End of Life Rights as the Ultimate Human Right'.
Outline & discussion of the 'DeBreather'
The duration will be 90 minutes (with a coffee break after 45 minutes).
Subscribers to the PPeH will be able to log-in and watch the meeting live.
Exit Members can apply for the unique, private link by registering at this page. 
Local Fins can register HERE for in-person attendance (free of charge).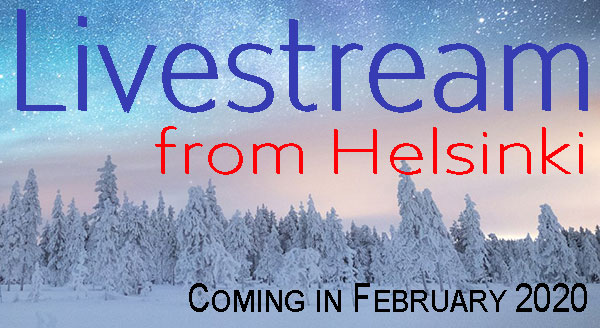 About Exit Livestreams
Exit holds Livestreams 3x a year from a range of locations.
Each Livestream has a dedicated topic.
Livestreams are free events, exclusively for current members of Exit International and current subscribers to the Peaceful Pill eHandbook.
Recordings of past Livestreams can be found on the final page of the Peaceful Pill eHandbook.
To access a Livestream in real time (at the advertised time), PPeH subscribers can log in as normal and click to the final page where they will see a video box. Click the arrow to join and play.
Exit members can join in real time by registering to recieve the log in details to the dedicated, private link.
Email contact@exitinternational.net for further details.