The Deliverance Machine
In 1996, at the time of the world's first right to die law, the Rights of the Terminally Ill Act (ROTI) of Australia's Northern Territory, Dr Philip Nitschke created the Deliverance Machine
The Deliverance Machine is a laptop computer connected to a syringe driver. When the reservoir of the syringe is filled with a lethal drug, such as Nembutal, and an intravenous line connected to the patient, the person can self-administer the drug.
The Deliverance Machine was created to give the dying person the final say in when they would exit. The Machine also allowed Dr Nitschke to move out of the immediate space of the patient; instead allowing that person's family in. As the medical practitioner, Dr Nitschke could retire to the corner of the room.
When the ROTI Act was overturned by the national Parliament of Australia, the Machine had no further use. Soon after it was acquired by the British Science Museum where it is now on permanent display in the Wellcome collection.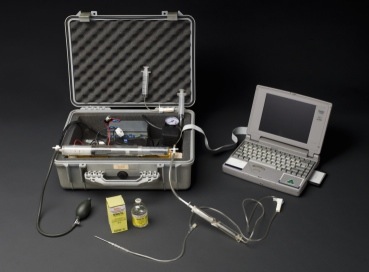 My Beautiful Chair
With Melbourne sculptor, Greg Taylor, My Beautiful Chair at MONA is a play on the original Deliverance Machine. As described by The Age, My Beautiful Chair offers a large, comfy leather lounge chair, a Persian rug, a standard lamp. A perfect lounge room setting.
In addition the installation features a laptop computer with a software program that is triggered when one sits in the chair. When the laptop starts up, the questions are blunt, if you press this button you will die. The final screen states 'you are now dead'.
Described as one of the most confronting but engaging exhibits at MONA, My Beautiful Chair has since inspired further collaborations, most notably in the Netherlands in 2016.