May 12, 2017
Suzy Austen goes to trial in Wellington on 12 February 2018
Exit's former Wellington Chapter Coordinator Suzy Austen has pleaded not guilty to aiding a suicide and importing a drug that can be used for euthanasia. Suzy goes to trial on 12 February 2018.
Suzy Austen, 65, has been charged with aiding (Exit International Life Member) Annemarie Niesje Treadwell to commit suicide between December 2015 and June 2016.
She also faces two charges of importing the narcotic sedative pentobarbitone.
She died in Wellington on June 6 last year, aged 77, after complaining of crippling arthritis and increasing memory loss.
The charge of aiding a suicide is rare, and carries a maximum penalty of 14 years' jail.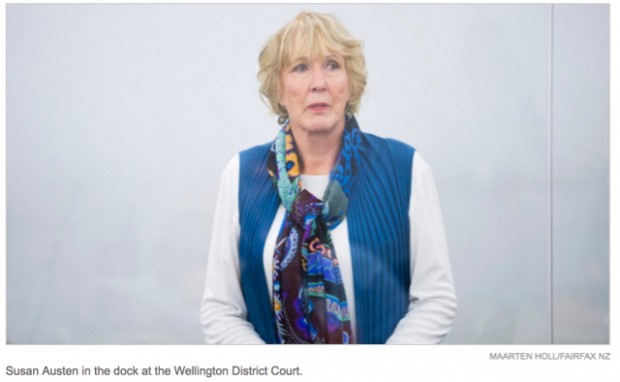 Austen's lawyer, Donald Stevens, QC, entered the not guilty pleas on her behalf before a court packed with her supporters, some having to stand after all available seats were filled.
Wellington District Court judge Peter Hobbs remanded her on bail until July for a case review hearing.
In late 2016, police ran Operation Painter, which involved officers visiting people who had considered euthanasia.
It later turned out police collected the names and addresses of many of those targeted – mostly older women – by setting up a breath-testing roadblock down the road from a Hutt Valley Exit International euthanasia meeting.
The Independent Police Conduct Authority began an investigation into the checkpoint, and a spokesman said this week that the investigation was expected to be completed in about a month, with a decision about a month later.
Austen is a Wellington Co-ordinator for Exit International.
Philip Nitschke, director of pro-euthanasia group Exit International, said there had been huge support for the crowd-funded "Save Suzy" legal defence fund from around the world. The initial target of $50,000 would be reached this week.
"Donations have come in from many countries as people read, and are amazed by, the actions of the New Zealand police and prosecution."
Nitschke said it would be a show trial.
"The charges against Suzy will lead to a show trial, with one objective, to 'send a message' and frighten any elderly New Zealander tempted to put in place a personal practical end-of-life plan."
He said he expected a significant attendance at the trial by euthanasia activists from around the world.
The crowd of supporters outside court carried signs and wore purple heart stickers with "Suzy" written on them as Austen left court. She declined to make comment on her plea.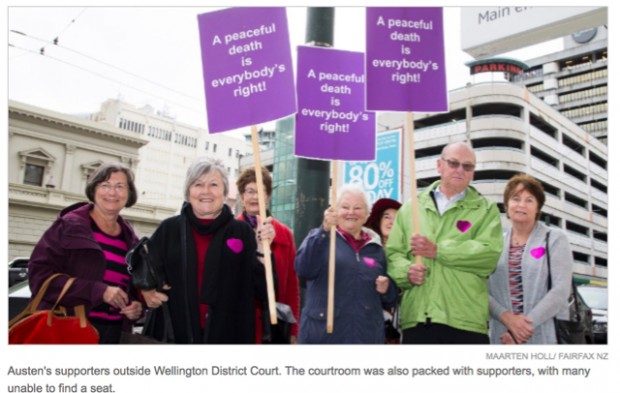 STRONG OPPOSITION TO LEGALISING EUTHANASIA, SAYS STUDY
Parliament's health select committee received 21,277 submissions as it considered the End of Life Choice bill – the most made on any proposed piece of legislation.
The majority oppose the legalisation of euthanasia, according to an analysis of the submissions by the Care Alliance, an umbrella group opposed to law change, which includes Family First, Euthanasia Free NZ, Hospice NZ and Not Dead Yet Aotearoa.
Its research concluded that 16,411 of the submissions opposed legalisation, while 4142 supported it.
Care Alliance secretary Matthew Jansen said the submissions reflected the depth and breadth of public attitudes about euthanasia.
He said the pro-euthanasia lobby had been actively trying to cast doubt on the submissions.
"We thought that was disrespectful to the thousands of New Zealanders who took the time and effort to share their views with Parliament, for and against. So we set to work to find out the facts."
Volunteers read every submission to record views on legalising euthanasia, the length of the submission, and whether or not religious arguments were used by the submitter.
A random sample from the full analysis was checked by independent research company Curia, headed by pro-euthanasia pollster David Farrar, Jansen said.
"The select committee has been provided with incredible testimony. We trust that they will hear that there is much more that needs to be done to improve mental health, disability and end-of-life services in New Zealand, but that the overwhelming majority of submitters say that euthanasia is not a solution."
– Stuff