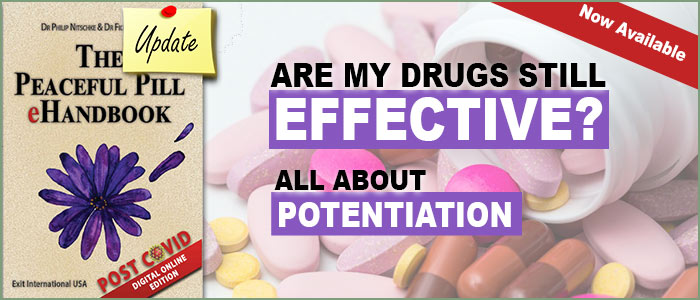 January 2021 PPeH Update - Now Available
Potentiation & Premedication are the Topics of this month's Update.
This update is essential reading if one has drugs that are old, of dubious quality or in insufficient quantities. 'Potentiation Drugs' create the all-important 'cardiac switch' ensuring a peaceful and reliable passing in one's sleep. The discussion of premedication offers insights into how risks can be minimized and errors avoided.

Also included in the January update are two new pages on a 4th lethal salt.



Exit Snippets - Registrations Now Open
Exit Snippets commence Wednesday 3 February 2021.
The first snippet topic is: The Salts - How the inorganic salts have changed the face of the DIY right to die movement


Private, Online Monthly Mini Workshops (70 minutes duration)
Topic-Specific (1 dedicated topic each month)
Exclusively for Exit Members (free) & PPeH Subscribers (US$22.50)
All Meetings - 1st Wednesday of the month @ 21.00 GMT


Amsterdam - 22.00
Los Angeles - 13.00
NYC - 16.00
Sydney - 8am (+1 day - 1st Thursday of the month)
Wellington - 10am (+1 day)
* The usual provisos of > 50 years, sound mind & photo ID apply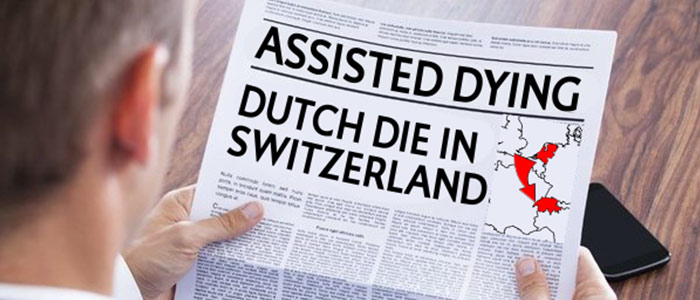 Selling Ice to the Eskimoes?
The Dutch Discover Pegasos - Ouch!
This week in the Netherlands there has been considerable controversy after national newspaper Trouw, highlighted the last journey of 87-year old Hague native, Mr Kees Kentie.


Mr Kentie had tried to get euthanasia at home in the Netherlands, but no doctors would cooperate: his suffering was not, in their eyes, 'unbearable'.


And this is what is always wrong with the medical model of end of life help: the decision to die is never yours, it is always the doctor who controls your end!


In response, Kentie turned to Pegasos in Switzerland where, last July, he died in peacefully in the company of his close friends.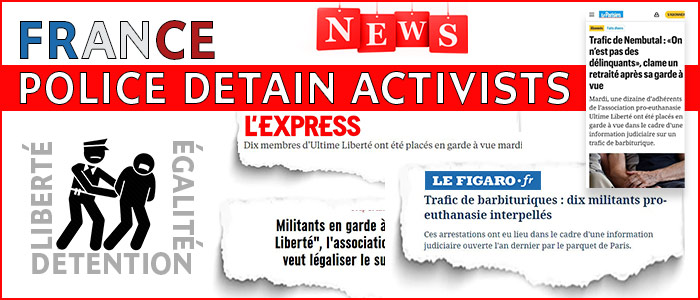 French Police Arrest Entire Board of Right to Die Group - Ultime Liberte
It is hard to imagine three countries with a more divergent view on end of life choices.


There are the Swiss with their de-medicalised law on assisted suicide.
There are the Dutch with the medicalised but long-standing euthanasia law.
And then there are the French where the entire topic is out of bounds and where those who advocate for change are treated as hardened, drug-trafficking criminals.
Only in France is there a legal duty to stop someone from taking the final step of ending their lives.

No sitting quietly with your loved one while they drink their Nembutal.
No reading of the Peaceful Pill Handbook.
In spite of their proud 1905 law of laïcité - separating Church and State - France remains a deeply restrictive, catholic country when it comes to end of life choices.


Read the News of the detention of Ultime Liberte HERE
NL +31 6 23 82 95 82 || US +1 360 961 1333 || UK +44 7883 509 765 || Aus 1300 10 3948