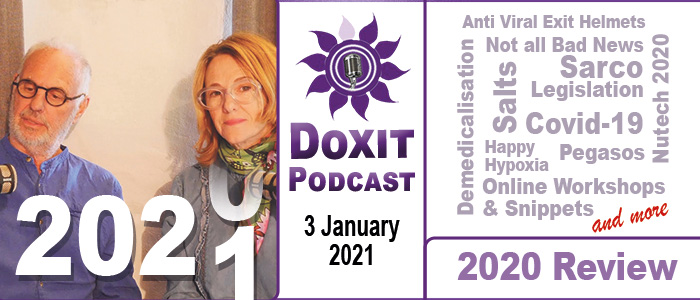 New Doxit Podcast - Now Available
'Looking Back - Looking Forward'
While mostly COVID-19 was (& continues to be) nothing short of disastrous for most of the world, some unexpected and interesting developments did emerge.


For example, like so many organisations, Exit moved our core operations online. Face to face workshops were abandoned in preference of Zoom workshops with online 4-hour meetings held across various global time zones.


The NuTech 2020 Conference was also held entirely online in September. In retrospect, it seems perfect practice to have live-streamed the last two NuTech meets in 2017 and 2018 (in addition to in-room attendance). A recording of the Conference is now available.


COVID-19 also generated the odd good development. Not only did Donald Trump tell the world about Chloroquine (PPeH June Update), but certain industrious developers created new anti-viral devices; helmets which may well be valuable when it comes to the use of gases for a peaceful and reliable end of life choice (more to come in the PPeH).


The first Doxit Podcast for 2021 examines these issues and more; including our forthcoming Exit Mini Monthly Workshops - Snippets - which commence online on Wednesday 3 February at 21.00 GMT. Registrations will open Sunday 10 January.



Exit Snippets Commence 3 February 2021
Online Monthly Mini Workshops
This year, Exit is going all out to reinvent our traditional, flagship workshops in the form of Snippets.
The first snippet topic will be:
Nitrite - How the inorganic salts have changed the face of the DIY right to die movement
Online Monthly Mini Workshops
Topic-Specific (1 dedicated topic each month)
70 Minutes Duration (inc audience Q&A)
Free for Exit Members
50% Discount for PPeH Subscribers (US$22.50)
US$45 Non-Members/ Subscribers
All Meetings will be held on the 1st Wednesday of the month @ 21.00 GMT =

Amsterdam - 22.00
Los Angeles - 13.00
NYC - 16.00
Sydney - 8am (+1 day - 1st Thursday of the month)
Wellington - 10am (+1 day)
* The usual provisos of age limit, mental illness & photo ID will apply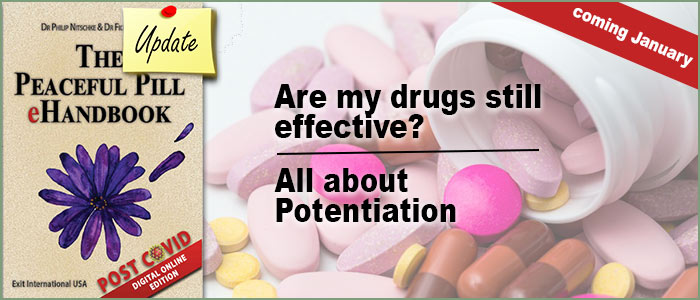 January PPeH Update
Coming Soon
Potentiation is the theme of this month's Peaceful Pill eHandbook Update (forthcoming).


Potentiation Drugs are the drugs that can make an effective 'cardiac switch' into a more acceptable 'sleep while you die' process.

And in response to reader questions, the January 2021 Update will also include a new section on a 4th Lethal Inorganic Salt.


Aus 1300 10 3948 || US +1 360 961 1333 || NL +31 6 23 82 95 82 || UK +44 7883 509 765