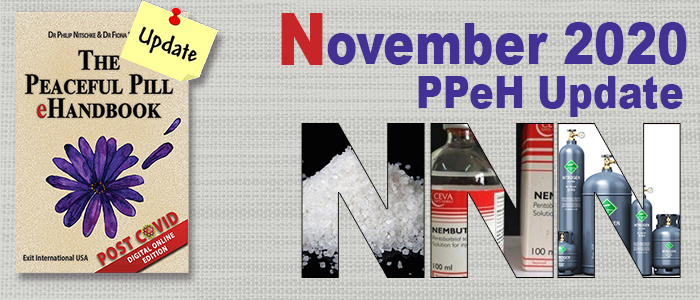 November Update - Now Available

Despite announcing the forthcoming December update on 'Potentiation' as it applies to the entire PPeH, this month has been overtaken by the letter 'N' which stands not only for November, but for Nitrogen, Nitrite & Nembutal.


These are the topics of this month's update. More specifically we discuss:

N regulators (p.108-09)
Peaceful dying with Nitrite - what the peer-reviewed journals say (p.200-04)
Peaceful dying with Nitrite - new Exit research results (p.205-06)
Nembutal & the authorities - Homeland Security are alive & well despite COVID-19 (p.336)
* Other language editions updates coming soon.

Plans Afoot!

With news of a vaccine on the horizon, this is a preliminary announcement to let members know that Exit will recommence face-to-face workshops as soon as COVID-19 allows.


So, if your Exit Membership is due for renewal, now is the time to act in anticipation of good, old-fashioned, in-room Exit meetings - replete with a cuppa tea & biscuit in the 2nd half of 2021!


Don't forget, commencing in January 2021, Exit will be holding monthly Snippets: online, mini workshops on single topic issues. This means each month, an online Snippet will focus on a different issue. Duration? 70 minutes inc audience Q&A.


* Exit Workshops & Snippets are Free for Exit Members

* PPeH subscribers attend Exit Workshops & Snippets 50% discount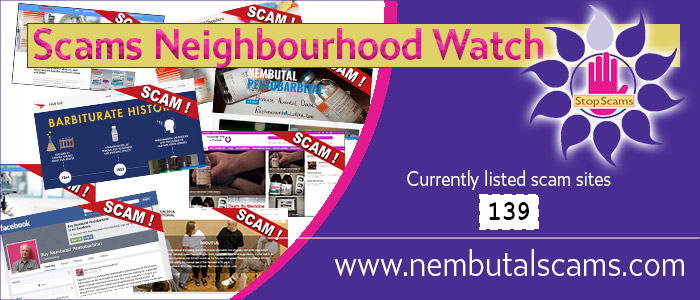 Did you know?
There are currently 139 different Nembutal Scam Websites listed on our Neighbourhood Watch Scam Website.


Doxit Podcast No 15

In our most recent Doxit Podcast, we explore the physiology of the good death, discussing the science behind the efficacy of some methods as distinct from others (eg. Nembutal over Opiates).


hypoxic
hypermic
ischemic
histotoxic
By understanding better how the different methods work on the body, there can be increased confidence in the efficacy of a method to provide a peaceful and reliable Exit at a time of one's choosing.


US +1 360 961 1333 || NL +31 6 23 82 95 82 || UK +44 7883 509 765 || Aus 1300 10 3948 || NZ + 64 9 889 0964