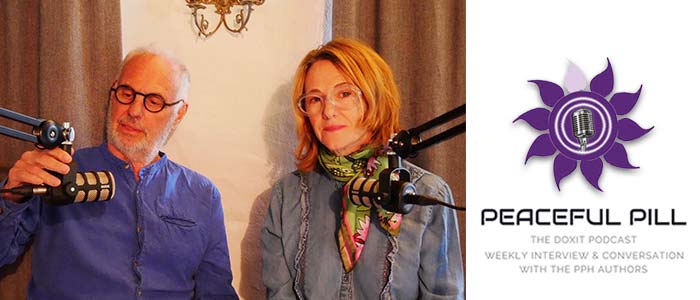 Doxit Podcast No 1 - Now Available
The Doxit Podcasts is a news & discussion series with the authors of the Peaceful Pill eHandbook.


Each week, Drs Philip Nitschke & Fiona Stewart discuss the new monthly update to the Peaceful Pill eHandbook, along with the main Assisted Suicide/ Voluntary Euthanasia/ MAID/ VAD etc news and views of the week.


Doxit Podcast No 1 (26 April 2020) examines the implications of Covid-19 for a good death, including issues such as: Covid pneuomonia, active & passive ventilation, the 'game-changer' of chloroquine and the perils of dying alone.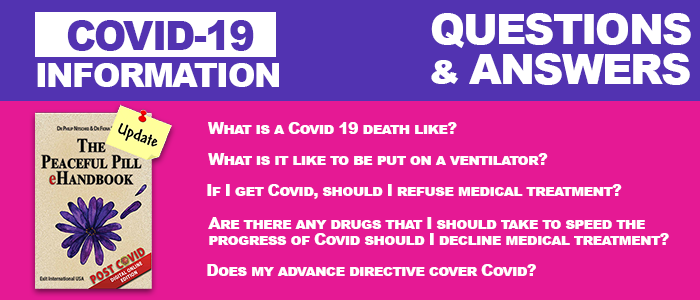 Peaceful Pill eHandbook April 2020 Update
April's Peaceful Pill eHandbook update features a new 16-page, COVID 19 Chapter, along with other new sections including: Dying & the Law & Swiss Options.


Why a COVID death is not the 'old person's friend'?
They say with COVID you die alone, in isolation?
If I get COVID, what are my end of life options?
Are there any drugs that speed the progress of COVID should I decline medical treatment?
Does my advance directive cover COVID?
What is informed assent vs consent & does it matter?
Dutch, German & Italian language editions updates are now live. French & Spanish coming soon.

US +1 360 961 1333 || NL +31 6 23 82 95 82 || UK +44 7883 509 765 || Aus 1300 10 3948