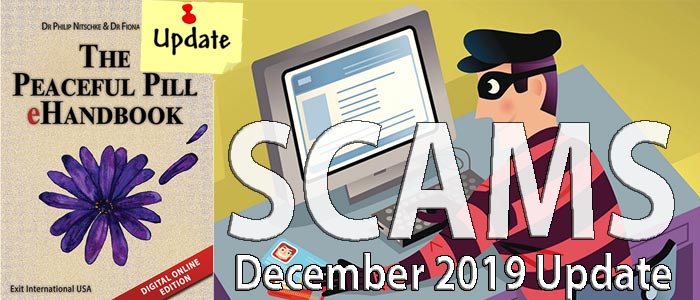 Final PPeH Update for 2019

'Spot the Scam' Special
This month's Peaceful Pill eHandbook focuses on Online Nembutal Scams.


We tell you about about the increasingly sophisticated scammer tactics designed to lure you in:

Scam copies of the Peaceful Pill eHandbook (yes you heard right!)
Scam Exit Peaceful Pill Forums sites (yes true again)
Scam Websites
Scam Emails
Scam Social Media
Scam couriers, insurance & more
What more can we say to warn unsuspecting readers of the ways of the Internet?


This month's re-write of our 'Scams Chapter' is not so much about websites to watch out for. It is to warn readers that ALL websites purporting to sell Nembutal are Scams.


There is no such thing as a genuine website selling Nembutal.


And there is only one genuine version of the Peaceful Pill eHandbook.


If readers come across a free PDF download for this book, this may not be the bargain you think. Scammers are now copying, changing and re-posting this book as part of an elaborate hoax to steal your money! The same goes for the Peaceful Pill forums!!


Not a Subscriber? Subscribe at the link below:
Not an Exit Forums Member? Apply to join by emailing:
* Note, Exit's forums are exclusive for members of Exit International & subscribers to the Peaceful Pill eHandbook (aged over 50 years & of sound mind).
US +1 360 961 1333 || NL +31 6 23 82 95 82 || UK +44 7883 509 765 || Aus 1300 10 3948