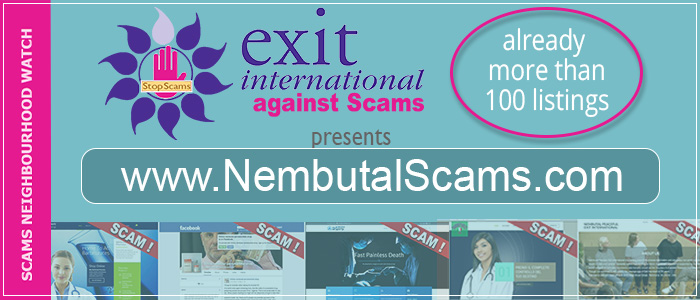 New STOP SCAMS Website Launches
Exit takes much pleasure in announcing the arrival of a new website to help STOP online Nembutal Scammers!

Aim - stop people falling victim to an online Nembutal scam
Idea - create an online 'Neighbourhood Watch' area where everyone has your back
Reality - no matter how professional a site might look, it will be a scam
Task - report the scam so that others can be warned & avoid being scammed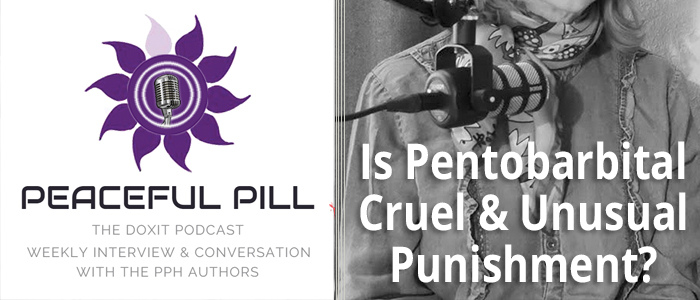 New Doxit Podcast - Nembutal
In this week's Podcast, we discuss the controversial use of Nembutal in capital punishment executions in the US.


In particular, we examine the argument that prisoners have recently presented to US Courts that death by pentobarbital injection causes flash pulmonary edema.


Flash pulmonary edema, they say, constitutes cruel & unusual punishment.


And cruel & unusual punishment is prohibited under the 8th Amendment of the US Constitution.


Does Nembutal cause 'flash pulmonary edema' & is this a problem?
Is Nembutal still the best drug for a peaceful/ reliable death?
The 2nd issue discussed this week is the global move to re-categorise Nembutal so Veterinarians are less likely to die from an overdose.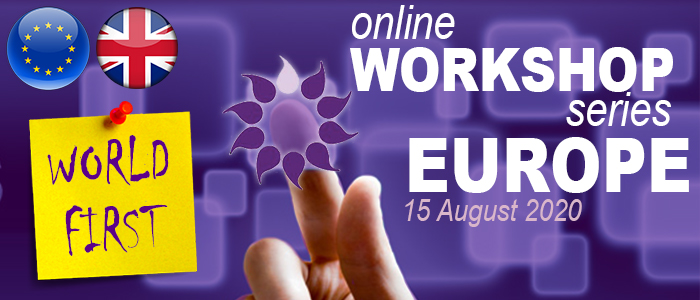 Exit London Online Workshop
13.00 London Time @ Saturday, 15 August 2020
Free - Members of Exit International
Discount - Peaceful Pill eHandbook Subscribers
Registration Required for everyone attending
Registrations close Thursday 13 August.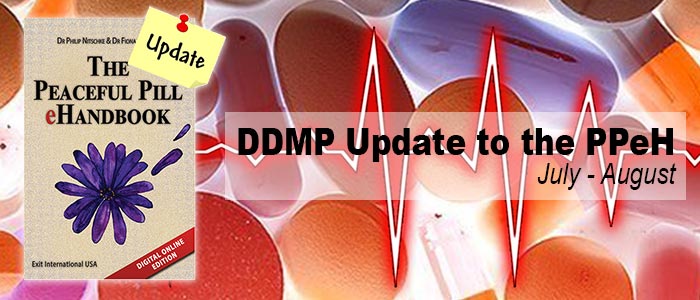 Coming in August 2020
New PPeH Update on the Multi-Drug Protocols

August 2020 Peaceful Pill eHandbook Update - Coming Soon

New End of Life Issues Survey
Exit's good colleague in Canberra (Australia), Dr David Swanton, is currently conducting a survey on all matters concerned with end of life choices.


David says: 'we will use the survey to gather information on VAD issues and analyse the data so that VAD organisations and governments can make better informed decisions'.


To participate in the Ethical Rights' survey, click HERE
The survey will be available for completion until the end of August 2020.
US +1 360 961 1333 || NL +31 6 23 82 95 82 || AU/NZ 1300 10 3948 || UK +44 7883 509 765