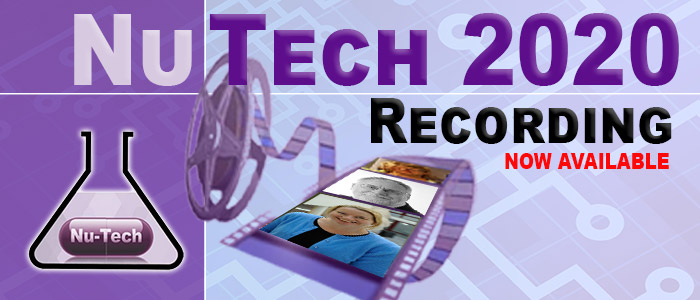 NuTech 2020 Conference Recording
Now Available
The NuTech 2020 conference was held on Saturday 26 September 2020.


The theme of this year's conference was 'The Dementia Dilemma' & featured Marije de Haas' speculative film 'The Plug'.


The conference show-cased 10 speakers from 9 countries, on 4 continents across the world.


Late-comers can purchase the recording US$75.


All proceeds raised will be held in trust for the funding of future NuTech conferences.


The Implantable 'Plug' – Marije de Haas, Futurist NL
Euthanasia & Dementia in the Netherlands - Bert Keizer, Doctor NL
The Pegleg Implant - Michael Laufer, Biohacker USA
The D-DMA Protocol - Lonny Shavelson, Doctor USA
Nitro 'Foam Frenzy' - Hugh Wynne, Engineer UK
Lessons from Self-Help Abortion - Kinga Jelinska, Feminist Activist NL
The Nitrite Conspiracies - Guillaume Coudray, Author FR
New Strategies for Bio-Body Disposal - Neal Nicol, Expert USA
Monoxide Magic – Ted Ballou, Engineer USA
MAiD vs DIY - Chris Docker, Author UK
A Common Gases Generator – John Todd, Inventor AU
Sarco X & Flat-packing - Philip Nitschke, Inventor AU/ NL
Tom Curran IRE & Fiona Stewart NL - Chairs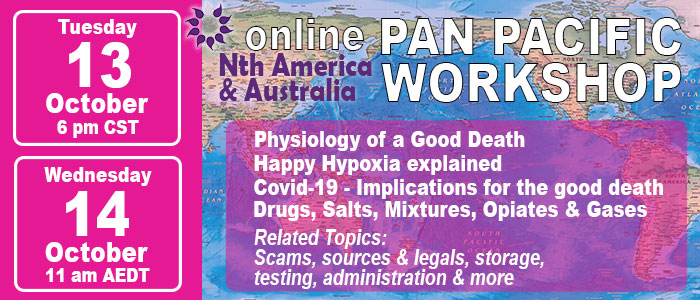 Exit Online Workshop this Week
Physiology of a Good Death: Why Some Drugs Work & Others Fail
Drug Potentiation: Ensuring your death is reliable and peaceful
Happy Hypoxia Explained
Specific Topics: Drugs, Salts, Mixtures, Opiates & Gases
COVID-19 – Implications for the good death (inc advance directives)
Related Topics: scams, sources & legals, storage, testing, administration & more
WHEN: Wednesday 14 October 2020 (or 6pm Tues 13th CST USA)
TIME: 11.00 (AEST - Australian East Coast Summer Time)
WHERE: From the comfort of your home
COST:

Free

for Exit Members; AUD$50 PPeH subscribers, $100 public
REGISTRATION: Essential for everyone (or we can't send you the link)


* Participants will not appear on video. Only Philip Nitschke will be able to be seen.
* Participants will be able to ask questions via the Q&A box during the workshop.
* Photo ID may be required.
* Workshops are limited to those over 50 years & of sound mind.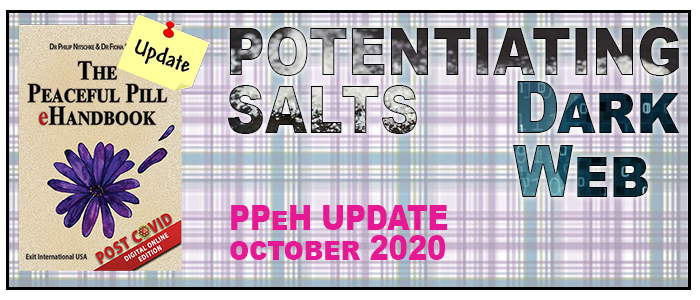 Peaceful Pill eHandbook Update
October 2020 - Now Available
Salts Potentiation (making more potent)
Using the Dark Web to obtain Nembutal
Print Editions (no updates)
* All prices exc shipping ex NL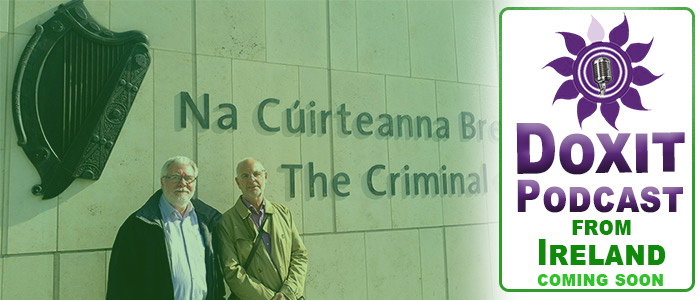 Next Doxit Podcast - Sunday 18 October 2020
'A Letter from Ireland'
In this week's Doxit Podcast, Exit Director Tom Curran, will explain the current push for voluntary euthanasia - assisted dying legislation in Ireland.


The Long Read The Journal.ie 'From social 'evil' to Supreme Court Scrutiny: the long journey to Ireland's landmark assisted dying vote' (published 11 October 2020).
Aus 1300 10 3948 || NZ +64 9 889 0964 || UK +44 7883 509 765 || US +1 360 961 1333 || NL +31 6 23 82 95 82