August 10, 2019
Euthanasia Police Raid Items Returned to Dr Nitschke
Andrew Hough, The Adelaide Advertiser
A controversial euthanasia advocate has criticised police after his personal belongings were returned yesterday – more than five years after raids on his Adelaide home.Major crime detectives interviewed voluntarily voluntary assisted dying campaigner Dr Philip Nitschke over the death of terminal cancer patient Max Bromson, 67, who died in a Glenelg motel on July 28, 2014.
Detectives sexzied more than 23 personal items during the three-hour raid on Dr Nitschke's then Gilberton home and clinic a few days later.
But after a two-year investigation, no charges were laid.
During a visit to Adelaide, the now Europe-based Dr Nitschke, 72, took back ownership of his items, including a laptop, an iPhone 6, memory sticks, correspondence with Mr Bromson and other documents.
But police refused his request to delete his fingerprints and DNA from their records.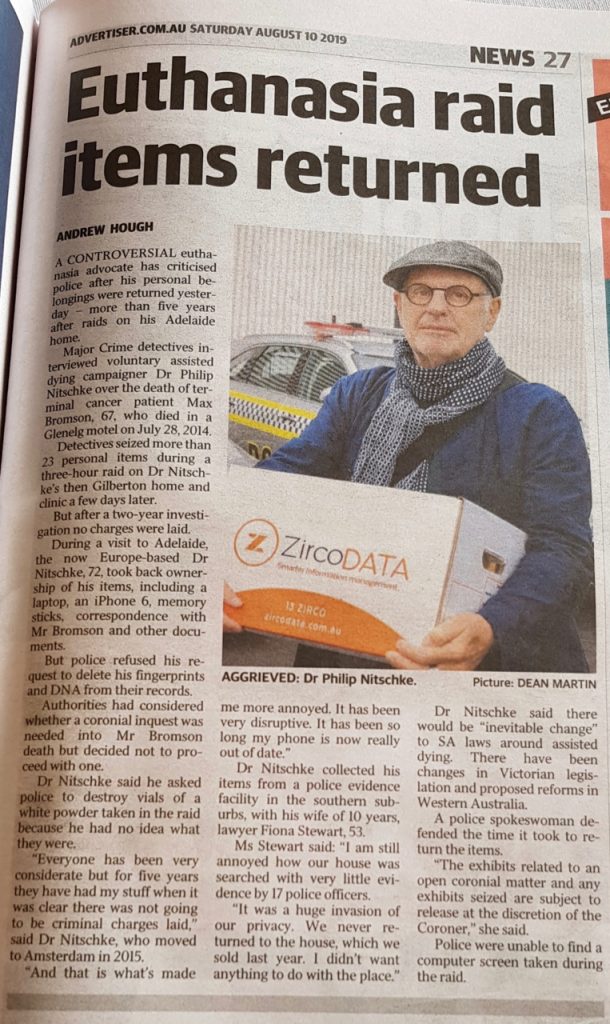 Authorities had considered whether a coronial inquest was needed into Mr Bromson's death but decided not to proceed with one.
Dr Nitschke said he asked police to destroy vials of a white powder taken in the raid because he had no idea what they were.
'Everyone has been very considerate but for five years they have had my stuff when it was clear there was not going to be criminal charges laid' said Dr Nitschke who moved to Amsterdam in 2015.
'And that is what's made me more annoyed. It has been very disruptive. It has been so long my phone is now really out of date'.
Dr Nitschke collected his items from a police evidence facility in the southern suburbs with his wife of 10 years, lawyer Fiona Stewart, 53.
Ms Stewart said 'I am still annoyed how our house was searched with very little evidence by 17 police officers'.
'It was a huge invasion of our privacy. We never returned to the house, which we sold last year. I didn't want anything to do with the place'.
Dr Nitschke said there would be 'inevitable change' to SA laws around assisted dying. There have been changes in Victoria legislation and proposed reforms in Western Australia.
A police spokeswoman defended the time it took to return the items.
'The exhibits related to an open coronial matter and any exhibits seized are subject to release at the discretion of the Coroner' she said.
Police were unable to find a computer screen taken during the raid.